Day of the Seafarer 2022: 'Your voyage – then and now', the journey of KOTUG's Captain Willem van Woercom.
The Journey of Captain Willem van Woercom, Corporate Director of Operations at KOTUG
25th June each year is the IMO Day of the Seafarer, recognising seafarers' invaluable contribution to international trade and the world economy. Besides, a career as a seafarer offers endless opportunities to learn and progress. This year's theme is 'your voyage then and now', so we would like to share the journey of KOTUG's Corporate Director of Operations, Captain Willem van Woercom, who started his voyage in 1983 on the MV Britsum, an 80k tons bulk carrier.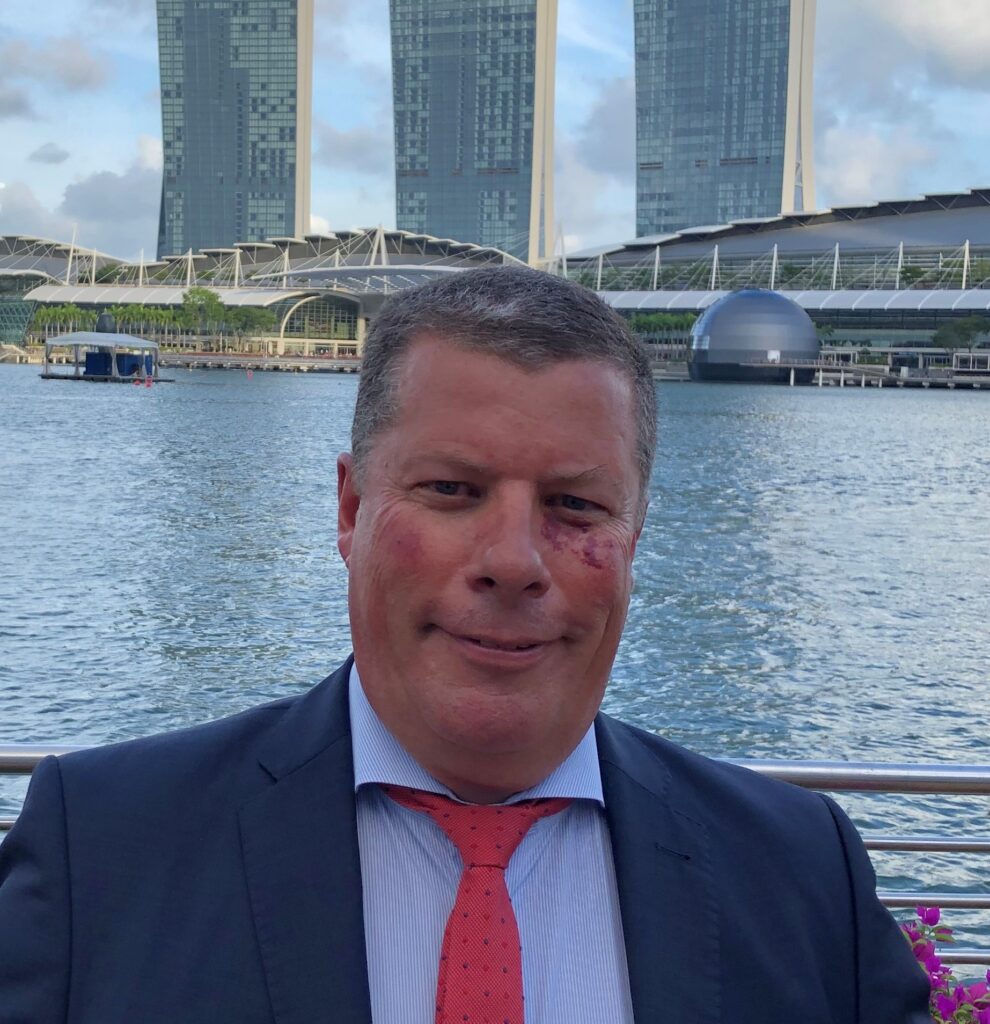 Can you tell us something about the start of your maritime journey Willem?
In the footsteps of my father and grandfather, I wanted to work in the maritime industry and studied at the Maritime Academy in Flushing. Although supported with a scholarship to sail on SHELL tankers, I got the opportunity to do my internship at Vinke & Co in Amsterdam, where I accomplished my first journey onboard the Britsum as an apprentice mate. I sailed to Sweden, Russia, the USA and West Africa and I just loved it! I travelled the world and visited many places.
Where did your career take you before arriving at your current role as Corporate Director of Operations at KOTUG International in Rotterdam?
Well, that's quite a story! After finishing school, I went back to Vinke & Co to work as Third Mate; after that, I went to Boskalis and worked as an apprentice engineer on various dredging vessels. Then, in 1988 I went to the USA for KOTUG to bring a new series of Z-Pellers to Rotterdam to perform harbour towage services, marking KOTUG International's start. It was an exciting time and I helped establish the KOTUG harbour towage division in Rotterdam.
After that, I worked for a short while for Offshore Marine Contractors as a rig mover and soon after, I found my place at Heerema Marine Contractors, where I worked for 28 years as Tow Master and Operations Manager. 'Never a dull moment' I can tell you that! I helped establish companies worldwide, did engineering activities and supported many projects.
In 2018, the opportunity to become Director of Operations at KOTUG crossed my path; a dynamic job in which all my knowledge and experience come together since KOTUG was, and still is, rapidly expanding its business worldwide with a strong presence in the offshore terminal support. The impressive fleet, the locations, and our clients make my job very diverse. Furthermore, the 'One KOTUG, One Team' spirit is great to work in.
How has your maritime journey enriched your life?
To me, the most appealing aspect was being able to travel the world and work with people from other cultures, I visited many (remote) places worldwide and it broadened my view.
What are new opportunities & challenges when you look at new technologies and the need to make shipping greener?
There are countless opportunities, and I am glad to see many companies, from startups to established organizations, develop innovations such as electrifying shipping and introducing greener fuels. The challenge, in my opinion, is that these innovations have to be affordable to enable mass introduction; otherwise, it will remain an academic discussion. Therefore, I see it as a joint responsibility of the entire logistics supply chain to work together on solutions to take care of our planet.
How does KOTUG pave the way for more sustainable shipping?
Innovation is key when it comes to sustainable solutions. At KOTUG, innovation is part of our DNA. Already in 2012 we introduced the E-KOTUG reducing fuel consumption by 25%. More recently we presented the KOTUG E-Pusher Series, a range of modular and scalable electric pusher tugs, powered by swappable energy containers on which we can install a smart AI-driven dispatch and route planning application, KOTUG OptiPort.
What is the difference between shipping then and now?
Innovations are unstoppable and we see larger vessels with endless technical features. However, as a seafarer, the most important difference, in my opinion, is connectivity; seafarers can talk to their families no matter where they are via satellite. Also, the systems onboard are all connected, changing processes and creating more safety for everyone involved.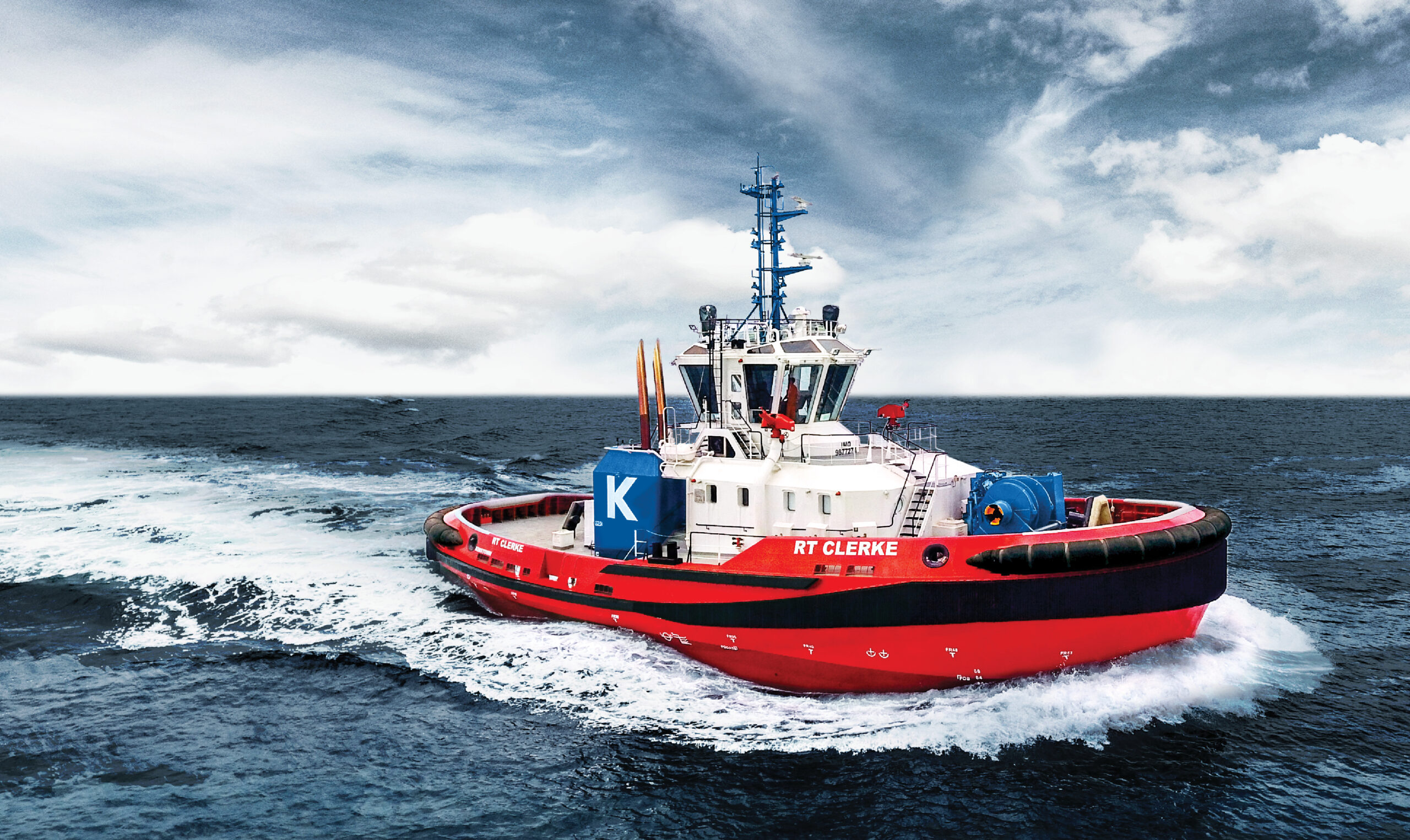 One last question Willem, what would you say to people who think of becoming a seafarer?
Seafarer is an excellent profession in a stable market; one can earn a good living, it gives much freedom and offers good career prospects. However, it is essential to realize that being a seafarer is for those who want to take responsibility, you will be literally at the vessel's helm, so this may not be for everyone, keep that in mind!
Keep following us via our socials, more seafarer journeys will follow!
#SeafarerJourney
KOTUG, ADMA and King AbdulAziz University sign MoU to develop a strategic partnership
KOTUG Training & Consultancy, the training and consultancy division of KOTUG International, Abu Dhabi Maritime Academy (ADMA), the regional leader in the Middle East region in the provision of simulator space and nautical training provider, and the Faculty of Maritime Studies (FMS) at King Abdulaziz University (KAU), a leading maritime education and maritime training provider in Saudi Arabia, signed a Memorandum of Understanding (MoU) to establish a long-term strategic partnership. The MoU encompasses the investigation of a close partnership for knowledge sharing, building and upgrading the training facilities in the Kingdom of Saudi Arabia, and to enhance the training of (tug) Masters, ships' crews and Pilots by certified KOTUG trainers at these training facilities.
In recent years Saudi Arabia has been on a drive to grow its network of ports, as part of what has become a period of transformation for the Kingdom's port infrastructure, in line with the countries Vision 2030. Facing an increasing demand for qualified maritime professionals in the Kingdom of Saudi Arabia, FMS is seeking ways to increase its capabilities whilst maintaining its best-in-class training, for which the organisation is renowned. Joining forces with strong knowledge partners KOTUG and ADMA, assures FMS to remain the number one training facility in the region, and significantly broaden its training-portfolio. It also supports the countries' recently declared pursuit to enhancing maritime security and safety, and protecting the marine environment, as well as accelerating the implementation of the initiatives of the IMO to reduce pollution resulting from maritime navigation, in line with the first objective of the establishment of the organization which is to work to raise the efficiency of maritime safety and reduce marine pollution. Training is an important driver of success to achieve these goals which we sincerely endorse.
Patrick Everts, General Manager of KOTUG Training & Consultancy: "We are extremely happy with this strategic partnership. As the only ISO 9001-certified tug training company in the world, we set high standards for the training facilities it uses, working together with two strong knowledge partners enable us to go beyond today's market demands. Our training method consists of three components, classroom and simulator training at state-of-the-art simulators, and on board training. It is a proven didactic method for the best training results, preparing the students for expected and unexpected real-life situations. We are looking forward to starting our training and providing students with our highly regarded KOTUG Training Certificate, ensuring more safety and efficiency to the maritime industry."
Dr Yasser Al Wahedi, Managing Director of Abu Dhabi Maritime Academy, AD Ports Group, said: "It is our great privilege to be a part of this valued collaboration that aims to enhance the level of maritime education available in the GCC region, elevating the professional development of future seafarers to new heights. As one of the region's leading facilitators of maritime education, we stand ready to share our expertise and insights on how innovation can be incorporated into the modern
curriculum, and as a champion in the development and implementation of maritime simulator technologies, we can leverage our experience to aid the Kingdom of Saudi Arabia's efforts to modernise its maritime education infrastructure and capabilities."
Dr. Faisal W. Althobiani, Dean of Faculty of Maritime Studies (FMS): "We are delighted in this Cooperation Agreement and in the effort taken from the schedule of your essential concerns to attend this event. The Faculty of Maritime Studies is considered one of the distinctive faculties in King Abdul-Aziz University and highlights its importance as being the first faculty in the Kingdom which provides high-quality maritime education to produce competent Saudi qualified personnel in the field of hydrographic surveying and maritime transport that fulfil the standards of the International Maritime Organization (IMO) and the International Hydrographic Organization (IHO). Also, to keep pace with the requirements of modern development in technology, economic and security fields, the preservation of the environment, and maritime safety".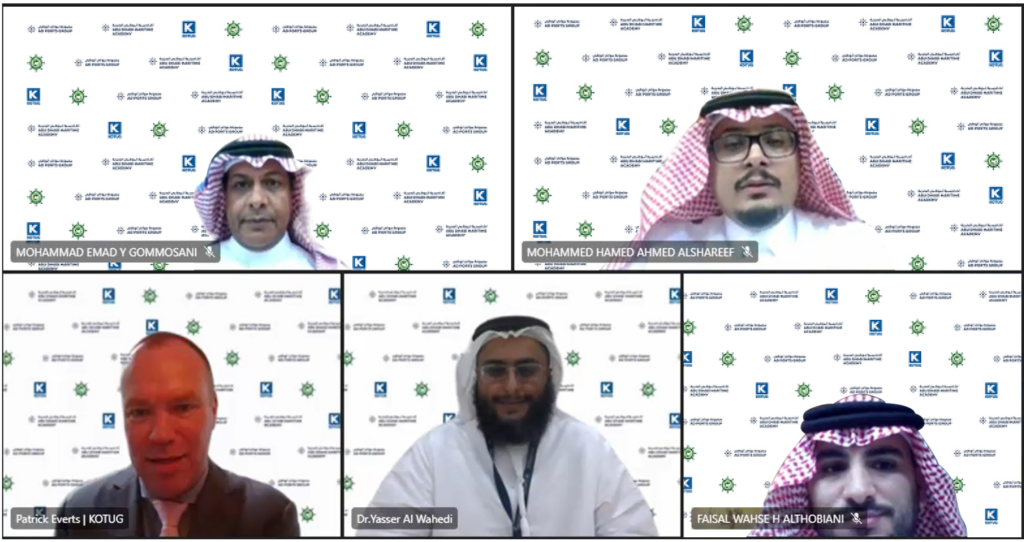 KOTUG and Seamen's Church Institute entered into strategic partnership to offer world-class training across the USA
KOTUG AND SEAMEN'S CHURCH INSTITUTE KICK-OFF THEIR STRATEGIC PARTNERSHIP BY HOSTING MORAN TOWING CORPORATION FOR ASD TRAINING, ASSISTED BY RIBEN MARINE
The Training & Consultancy division of KOTUG International (KOTUG), and the Seamen's Church Institute (SCI), the leading maritime education and maritime training provider in the United States of America entered into a strategic partnership to offer exclusive training of (tug) Masters, ships' crews, river barge shippers, and Pilots by certified KOTUG trainers at SCI training facilities across the United States. The partnership was officially kicked-off by hosting Moran Towing Corporation for a week of ASD operator training assisted by Riben Marine founder Captain Jay Rivera.

Since 2019, SCI, Riben Marine, and Netherlands-based KOTUG have performed training for ship pilots and tug masters—-prior to conducting feasibility studies for new docks and waterway projects–along the Texas Gulf Coast.
For the week of May 16 to May 20, 2022 this partnership came together to conduct its first Basic Azimuth Stern Drive (ASD) Tug Class for Moran Towing Corporation, among the largest tow and tug fleet operations in the United States.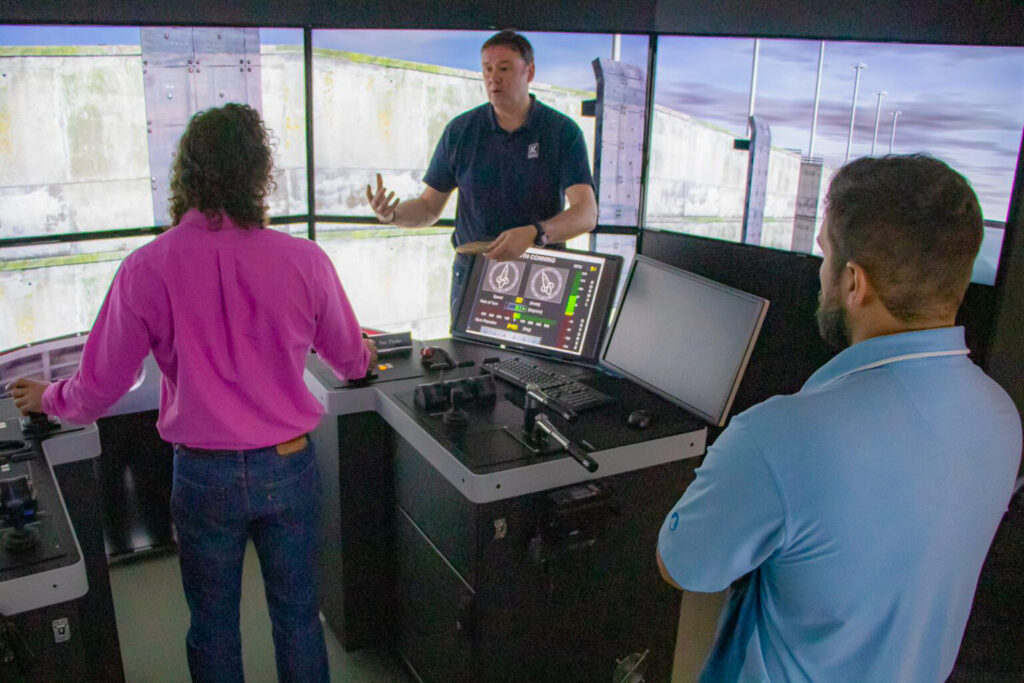 The course was led by KOTUG Senior Trainer Captain Xavier Blejan, assisted by Riben Marine founder Captain Jay Rivera. SCI Staff served as facilitators and subject-matter experts. The course brought together some of the best training resources available -expert tug trainers, ship-handling experts, pilot-grade custom tug models, and state-of-the-art Kongsberg simulators- delivering high-impact and quality instruction for the Moran team of ASD operators. 
Patrick Everts, General Manager of KOTUG Training & Consultancy: "We are extremely happy with this strategic partnership. Supporting SCI with their navigational training and preparing their students for expected and unexpected real-life situations with our proven training method in their state-of-the-art simulator-based facilities, is a win-win."
Stephen Polk, Director of Center for Maritime Education, SCI : "This course establishes a new standard in maritime education. We are excited to offer comprehensive coursework together with KOTUG and RIBEN in Basic ASD training, Advanced ASD training, Harbor Assist/Towing, and Advanced Ship Assist and Escort Maneuvers for tug personnel in the USA using our best-in-class simulators at SCI's facilities in Paducah, KY and Houston, TX.
KOTUG Training App for advanced safety
In addition, SCI will implement the KOTUG Training App, KOTUG's latest feature to bring training to the next level by monitoring the knowledge and skill levels of all seamen. The app detects possible gaps in skills at an early stage and registers progress made as a result of training. It gives valuable insights to put together tailor-made individual training which is highly motivational and improves overall safety.
KOTUG to acquire Seaways International
An important milestone for KOTUG to strengthen its leading position in global offshore markets.
KOTUG to acquire SEAWAYS to accelerate its growth in worldwide offshore floating energy facilities.
Largest acquisition in KOTUG's history, family-owned maritime company since 1911.
KOTUG International B.V. (KOTUG) entered into an agreement to acquire SEAWAYS INTERNATIONAL (Seaways), a reputable owner and operator of state-of-the-art Offshore Support Vessels providing offshore marine services to the global energy industry. The acquisition is an important milestone for KOTUG to strengthen its leading position in global offshore markets.
The intended acquisition of Seaways marks the largest in KOTUG's history and is part of KOTUG's strategy to expand its business in assisting worldwide floating facilities such as FSO, FPSO, FLNG, FSRU and SPM Terminals. In addition, it will further consolidate the position of KOTUG in this niche market that is expected to grow as new offshore floating projects emerge in response to rising energy demand.
Seaways owns and operates a fleet that comprises of DPS-2 capability AHT's, Fast Crew Suppliers (Crew Boats for Passenger Transportation) and Cargo Barges, and also provides terminal management services. Headquartered in Dubai, the family-owned company has a primary focus on West Africa. The acquisition will enable KOTUG to pursue its mission to provide sustainable towage and related services to the maritime industry, exceeding clients' expectations through its first-class portfolio.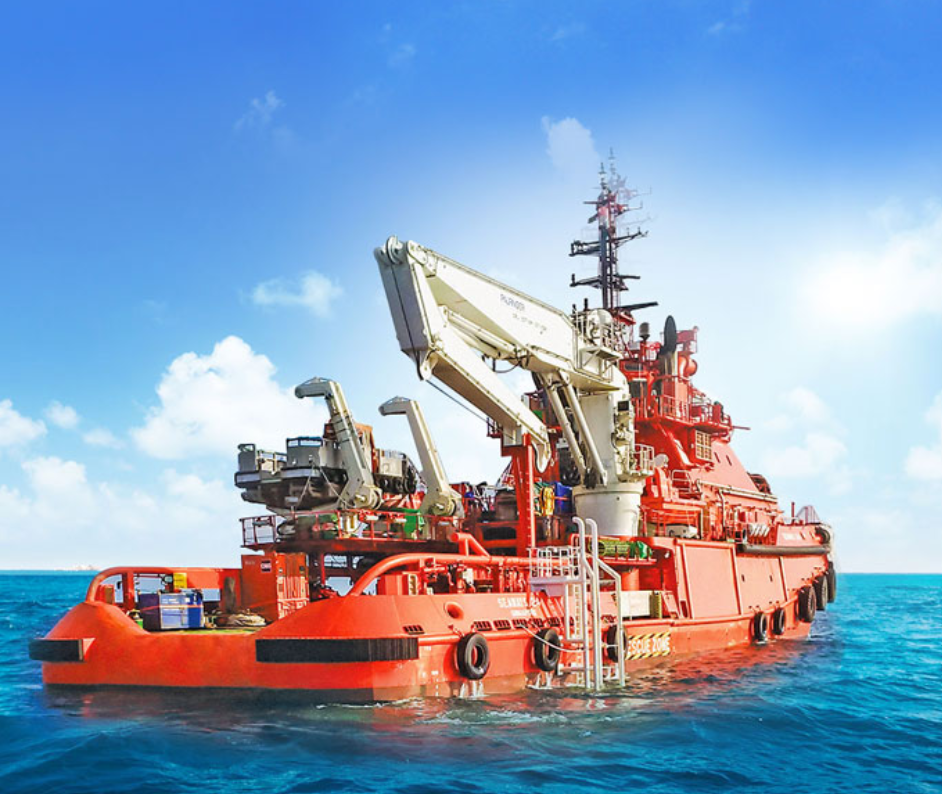 Ard-Jan Kooren, President & CEO of KOTUG International: "The acquisition of the renowned Seaways will mark an important milestone for KOTUG. It fits our strategy to expand our (offshore) operations worldwide to meet the increasing demand for offshore support vessels. Over the last years, we have already heavily invested in offshore support vessels and people. The integration of the services and assets of the two leading companies will bring compelling synergy opportunities, leading to more efficient operations and enhancing significant value creation for our global customers. It strengthens our presence in West Africa and paves the way to enter other emerging markets. Seaways is a reputable company with high-quality services and a great motivated team. The culture and spirit of both companies have many similarities, and we foresee a prosperous future together."
Captain Ashish Nijhawan, Managing Director of Seaways International: "I am proud that the Seaways family will become part of the KOTUG global family. Since its incorporation 27 years ago, Seaways has built itself into a reputed offshore maritime company with a proven track record and a knowledgeable and experienced team. KOTUG is an ideal fit for our people and our customers. I feel confident that this acquisition enhances Seaways, her dedicated onshore/offshore staff, and for her to grow into KOTUG's (new) business areas globally."
The acquisition is expected to be completed in the second half of 2022 – both companies will now work on customary governmental and other approvals, with the aim of completing the transaction within July 2022.

KOTUG towed and transferred huge topside from Haugesund to Pioneering Spirit
Last week two Towmasters of KOTUG assisted Allseas by towing and transferring a huge topside. The Equinor owned topside P2 of the Johan Sverdrup offshore oil and gas field was transported from the Norwegian city Haugesund to the Allseas' Pioneering Spirit.
The topside, weighing over 27.000 tonnes (104/64/69 meters) was built on board the world's largest cargo barge H-851 at the Aibel yard in Haugesund. Our Towmasters were responsible for the tow towards the Bomlafjord, close to Stord. Here the barge with the units of the topside was manoeuvred into the slot of the Pioneering Spirit for transfer. After the successful transfer, the H-851 was delivered back to Haugesund.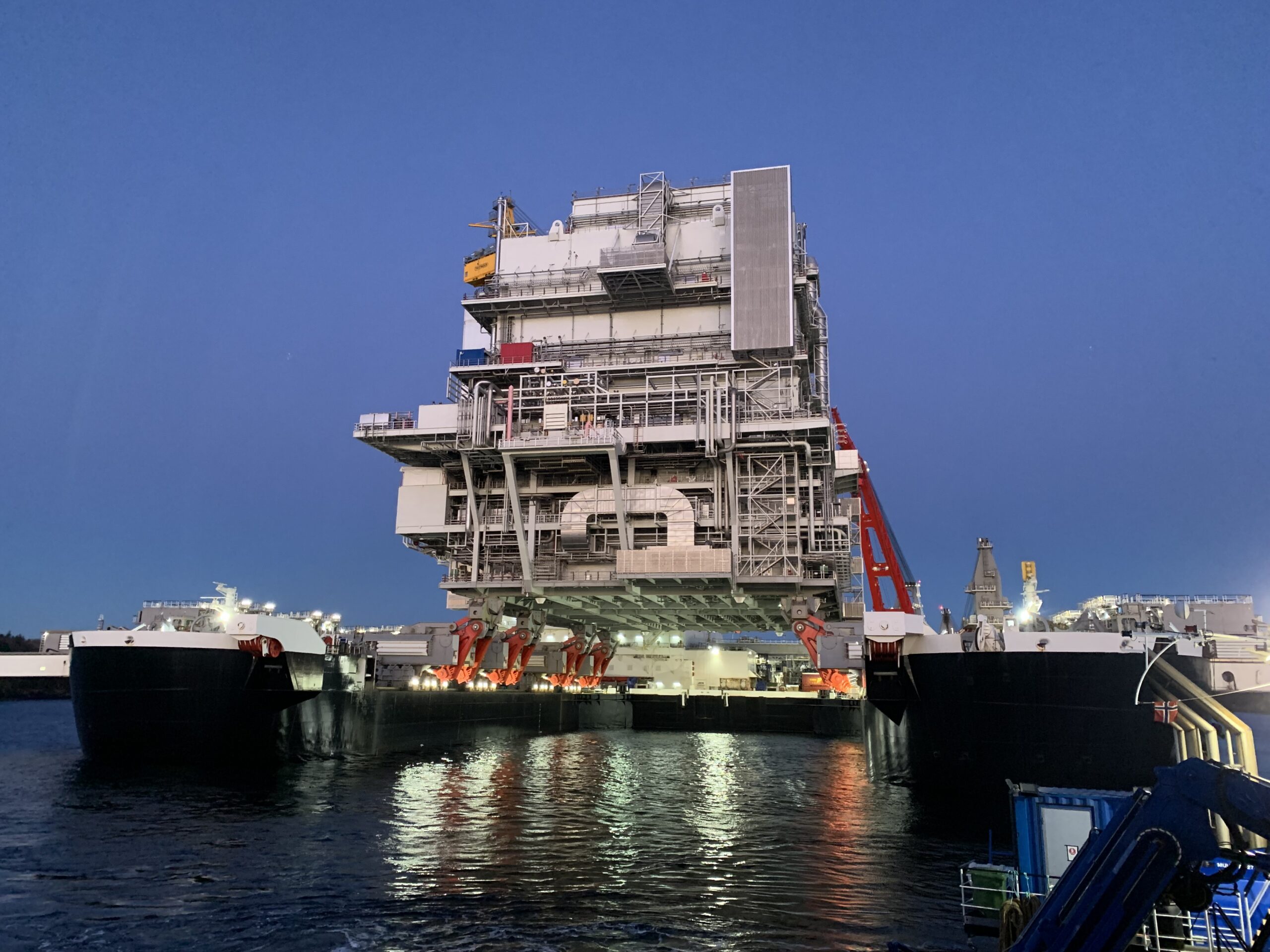 Multiple tugs were used for the job: Normand Ferking, Bugsier 4 and 9, Vivax and Tronds Flex.
International Women's Day: Margo Kok-Van der Wal about 40 years of female leadership at KOTUG
This years' theme of International Women's Day is #BreakTheBias. We ask Margo Kok-Van der Wal, recently retired Vice President & CFO of the KOTUG Group of Companies, about her experience as a female leader. What is her advice to women and companies to 'break the bias'?
Can you tell us about your career?
MK: "I joined KOTUG in 1982 to handle all administrative and tax matters. A few years later, I got promoted to the function of Management Assistant. In 1996, after finishing law school, I joined the board of Directors as Financial Director. When Ton Kooren, CEO and the third generation of the Kooren family, retired in 2002 and was succeeded by Ard-Jan Kooren, I was appointed CFO/Vice President after an internal job application."
The maritime industry used to be a typical men's world. Fortunately, we have seen this change rapidly during the last two decades; how did you experience this?
MK: "Within KOTUG this has never been an issue, there has always been the golden rule, 'the best person on the job'. Ton Kooren was a visioner and encouraged me to develop and encouraged a diverse organisation. At that time, we defined our robust set of corporate values that are still unchanged to date, uniting our staff and crew and still attracting new colleagues. Also, when we expanded internationally, respecting each other, regardless of age, gender or religion, was a prerequisite for success and turned out to be enriching. It opens your view. Our values never were just words, but are lived by and embedded in our systems. My experience in all those years is that as long as people can embrace the differences all teams become more complimentary, you get the best of both worlds, and you can perform stronger. In the beginning, I often was the only female in the room and had to find my way, but I have always been treated respectfully. I guess the bias we face nowadays occurs more out in the field, onboard the vessels. We also have women onboard our vessels, and we still see that we have to challenge the gender bias there. It is not obvious, although KOTUG has the same way of working there, we primarily look for the right capabilities. We invest in local talent, in training men and women. We also see these women as role models for future generations."
What is your definition of female leadership and your advice to women and girls?
MK: "For me, the most important aspect of female leadership is to take ownership of your personal development, don't compare yourself to others. To do that, you have to know yourself, including your weak spots, don't be afraid to ask for help, and be open to feedback. Then use that feedback to work on your personal development and keep going. But, again, to support that, it is essential to create an environment that supports diversity, that has a back-end in place, a system that supports personal development. For example, KOTUG was the first company in the towing industry to have annual appraisals. A moment to have a two-way dialogue, where this feedback can be shared, and personal development is a serious topic. Also, when you look at the piling regulations around compliancy, we all must be aware of the paralysing effect on the business and have an eye on the final goals; again, we apply a person because of his or her skills, not to reach a quota. That is very refreshing and leaves no room for bias."
What do you wish the industry in this respect?
"The towing industry is beautiful. Getting qualified staff and crew will be a challenge for all of us. Embracing all differences, and not because you have to, but because you believe in a diverse team, will open worlds and grant access to wider talent pools."
"That is what I wish for all people."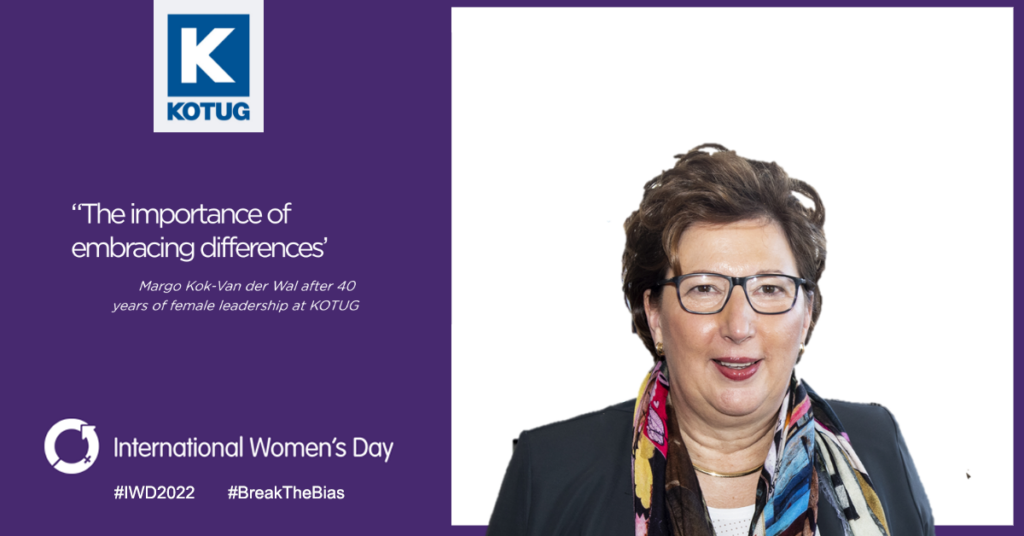 Imagine a gender equal world. A world free of bias, stereotypes and discrimination. A world that's diverse, equitable, and inclusive. A world where difference is valued and celebrated. Together we can forge women's equality. Collectively we can all #BreakTheBias.
KOTUG starts with zero-emission transportation from Amsterdam to Zaandam with the first electric E-Pusher™ Type M
KOTUG will deploy the KOTUG E-Pusher type M and four barges for zero-emission barging of cocoa beans from Cargill between the Port of Amsterdam, the largest cocoa import port in the world, and their cocoa facilities in Zaandam. The vessel is equipped with swappable battery energy containers from Shift Clean Energy (Shift), which is part of the revolutionary design of the vessel and will utilize Shift's unique battery swapping and charging stations.
Cargill will be the first company with this fully electrified industrial setup for inland shipping. With the 100% electric E-Pusher, KOTUG supports companies that want to build more resilient and sustainable supply chains. The modular and scalable electric pusher tug is powered by swappable energy containers. With this zero-emission solution, KOTUG supports the worldwide energy transition and the modal shift from road transport to waterways. Furthermore, due to the modular approach and lean assembly method, KOTUG reduced the construction time by more than half compared to traditional pusher boats. The E-Pusher type M can push barges with up to 4.000 tons of cargo. The E-Pusher Series consists of three types: Small, Medium and Large, respectively for transportation in inner cities, over short distances and the larger inland waterways.
Improving CAPEX and OPEX
By using barges, the E-Pusher concept contributes to a more efficient operation compared to traditional vessels. Efficiency is also achieved with the swappable energy container from SHIFT Clean Solutions; changing the container at one of the battery hubs on-the-go is done in a few minutes. In addition, empty batteries can be recharged at night, taking advantage of possible energy surpluses in the grid.
Shift's PwrSwäp Solutions
Shift provides swappable energy containers that utilize its zero-emission ESS battery systems which range from 70kWH to 6MWh. These modular ESS battery systems are charged through clean power generation from (bio)gas, hydrogen, and other renewable energy sources either onboard the vessels or at Shift's dedicated PwrSwäp energy stations. By swapping these ESS battery systems, uptime is maximized for the vessel owners.
Ard-Jan Kooren, President & CEO of KOTUG International: "We launched the E-Pusher concept in 2021, and the smaller type, the E-Pusher S (the 'CityBarge One'), is already successfully deployed in several inland waterways and cities. I am very proud that an international company like Cargill is our first customer for the E-Pusher type M. The vessel is designed for transportations like these and guarantees zero-emission logistics and a significantly approved efficiency. As a result, we can support a broad range of industries to turn a part of their supply chain emission-free without extra costs. The applications of the E-Pusher are endless and vary from the transportation of (construction) waste to construction materials to all kinds of products and packages."
Paul Hughes, President & Co-Founder Shift Clean Energy: "We are thrilled to partner with KOTUG for the supply of the swappable batteries for the revolutionary E-Pusher™ type M. With our PwrSwäp charging stations along the route, as part of the broader Amsterdam-Rotterdam-Antwerp route, we can eliminate any concerns on range anxiety. In our opinion, overcoming this important hurdle will open the door to large-scale electrification of vessels, and thus to zero-emission water transportation. Our PwrSwäp charging stations will be multi-fuel and open access and will provide an important infrastructure improvement for ports and cities as they progress their emissions reduction programs. This is a great start."
Alma Prins, Head Cargo and Offshore at Port of Amsterdam: "I applaud these kinds of developments and initiatives. As the largest cocoa import port in the world, many cocoa beans arrive here in Amsterdam. It's great that these can be transported emission-free between the warehouses in our port and the Cargill factories in Zaandam. We want to move towards a climate-neutral port, so the fewer emissions, the better."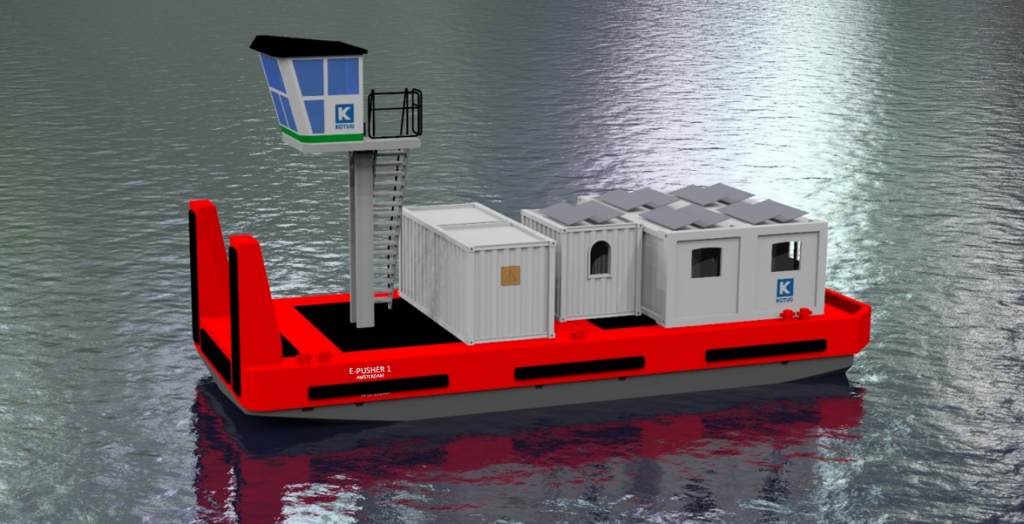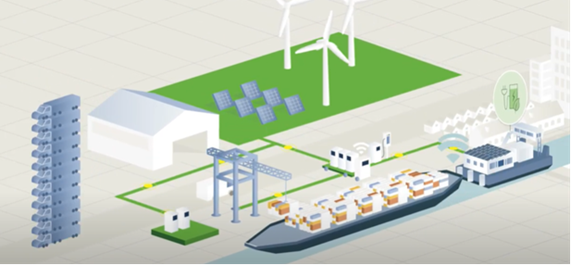 KOTUG Canada awarded contract for delivery and operation of three vessels for Trans Mountain Expansion Project
KOTUG Canada Inc., a partnership between KOTUG International B.V. and Canada's Horizon Maritime Inc., has been awarded a long-term agreement with Trans Mountain, operator of Canada's only oil pipeline servicing the west coast of Canada providing tidewater access to foreign markets for Canada's petroleum resources. KOTUG Canada will provide escort towage to tankers loaded at Westridge Marine Terminal, and was selected for this purpose by shippers on the Trans Mountain Pipeline after a rigorous and competitive process, facilitated by Trans Mountain. Besides the strong technical specifications of these modern vessels, decisive factors for the award included KOTUG Canada's commitment to a strong and innovative approach to Indigenous involvement and the partnership's strong foundation in operational excellence in Canada and around the world.

This agreement has been established in partnership with the Sc'ianew First Nation, located in Beecher Bay, on Vancouver Island. This strategic location along the Trans Mountain escort route will provide KOTUG Canada with a safe home for a dedicated berthing facility as well as support the commercial activities of the Sc'ianew First Nation in Beecher Bay. The escort tug names will commemorate two important people from the Sc'ianew community.
Chief Russ Chipps, Sc'ianew (Beecher Bay): "We have gone through great lengths, controversy and criticism to protect the ocean. This is just one part of our commitment to our people to do so. We want to be the centre for research, development and ocean protection, all while being the ambulance of the sea."
The agreement provides the Expansion Project, and all other marine movements, with necessary resources in support of Trans Mountain's stringent commitment to marine safety and will further enhance the overall safety of vessel transits along the commercial shipping route between Westridge Marine Terminal in Burrard Inlet and the open ocean.
KOTUG Canada will provide and operate the two dedicated escort tugs, each approximately 50 metres long, with minimum bollard pull capacity of 110 T BP, which will be flagged in Canada and operated by highly skilled and capable Canadian mariners.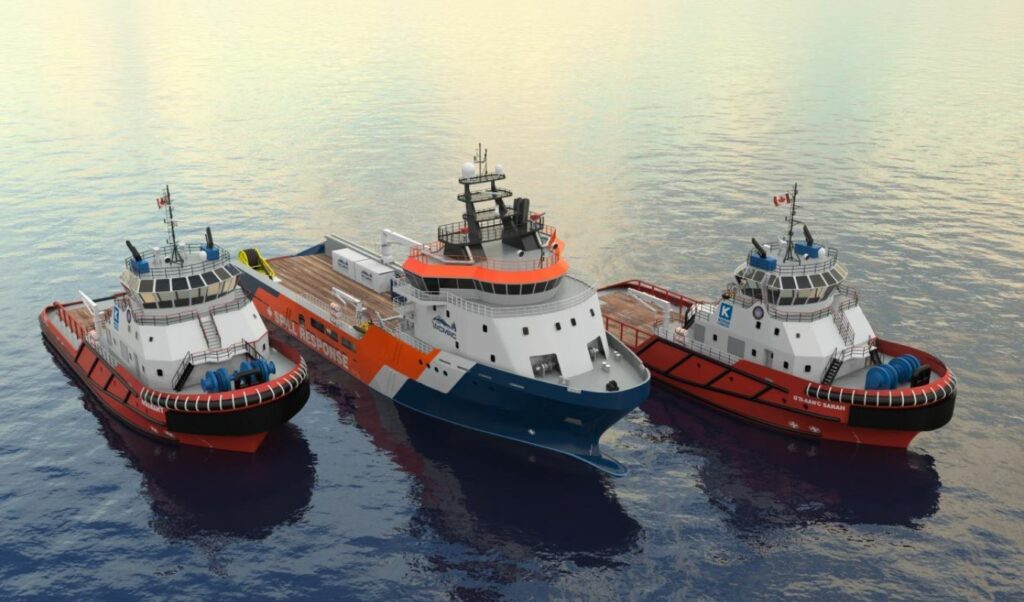 Provision of new technologies will assist to reduce underwater radiated noise and greenhouse gases. This includes the application of a revolutionary vessel hull coating developed in Canada by Graphite Innovation & Technologies. The vessels' propulsion systems will use the latest engine drive technology.
KOTUG Canada will operate in close coordination with the Sc'ianew First Nation. The agreement also includes related training and development of community members of Indigenous communities to maintain the necessary experience and knowledge in the field of advanced safe tug operations and marine response. Importantly, the partnership between KOTUG Canada and the Sc'ianew First Nation provides vessel crews opportunities to learn from traditional knowledge and operate with respect and appreciation of the unique natural habitat of British Columbia's coastal environment.
Ard-Jan Kooren, President and CEO, KOTUG International; Board Member and Director, KOTUG Canada: "We are proud to be selected as the exclusive provider of escort tug support to Trans Mountain tankers. It is an acknowledgment of the strong heritage, knowledge, and innovative culture of the combined companies of KOTUG Canada, who both have impressive track records. Our strong commitment to First Nations, social responsibility, and sustainability will successfully support Trans Mountain's environment-focused safety initiatives."
Also, under a separate transaction, KOTUG Canada has an agreement with Western Canada Marine Response Corporation (WCMRC) for the provision and operation of one dedicated offshore supply vessel (OSV), to support the protection of the Salish Sea/Haro Strait and Juan de Fuca Strait. The dedicated OSV is suitably equipped for 24/7 oil spill response services. This highly capable vessel possesses significant bollard pull capacity of 207 T BP and is also capable of vessel towing, if required to do so.
Together, these three KOTUG Canada operated vessels, based out of Beecher Bay, will help to further improve the safety of the marine network in the region. Early operations are expected to commence from late 2022.
Ian Anderson, President and Chief Executive Officer, Trans Mountain Corporation :"Today represents a significant milestone in meeting our marine shipping commitments as a result of innovative partnerships between marine industry and Indigenous communities. With KOTUG Canada's operations based out of Beecher Bay First Nation on southern Vancouver Island, these tugs will bring significant new tow capability to the region and will to raise the level of marine safety and emergency response, benefiting the shared waters of the Salish Sea. Chief Chipps and his community have shown great leadership in the protection of the marine environment, and this partnership will provide significant employment and commercial opportunities. I could not be happier for the Sc'ianew people. This is a great example of how shared values of protecting the marine environment, building capacity and growing local economies can work together."
See the backgrounder for more information about the project and the vessel specifications.
Sean Leet, President and CEO, Horizon Maritime; Board Member and Director, KOTUG Canada: "Being entrusted by Trans Mountain and WCMRC to provide these critical marine support services to keep our coastlines safe is an honour and a responsibility that we place the highest level of importance on. Partnering with the Sc'ianew First Nation to deliver these services has been a remarkable and rewarding experience – we look forward to achieving further success together as we build on the momentum we have created."
Kevin Gardner, President, WCMRC: "The offshore supply vessel (OSV) is a substantial enhancement of oil spill response capacity on Canada's West Coast. Offshore supply vessels have proven to be very effective oil spill response ships. At 245 feet and with 1,000 tonnes of oil storage capacity, it will be the largest ship in our fleet. The OSV will allow WCMRC to mount a large-scale response within six hours anywhere along the shipping lanes. WCMRC will be outfitting the OSV with 4,000 feet of offshore boom, a high-speed sweep system and a high-capacity skimming system."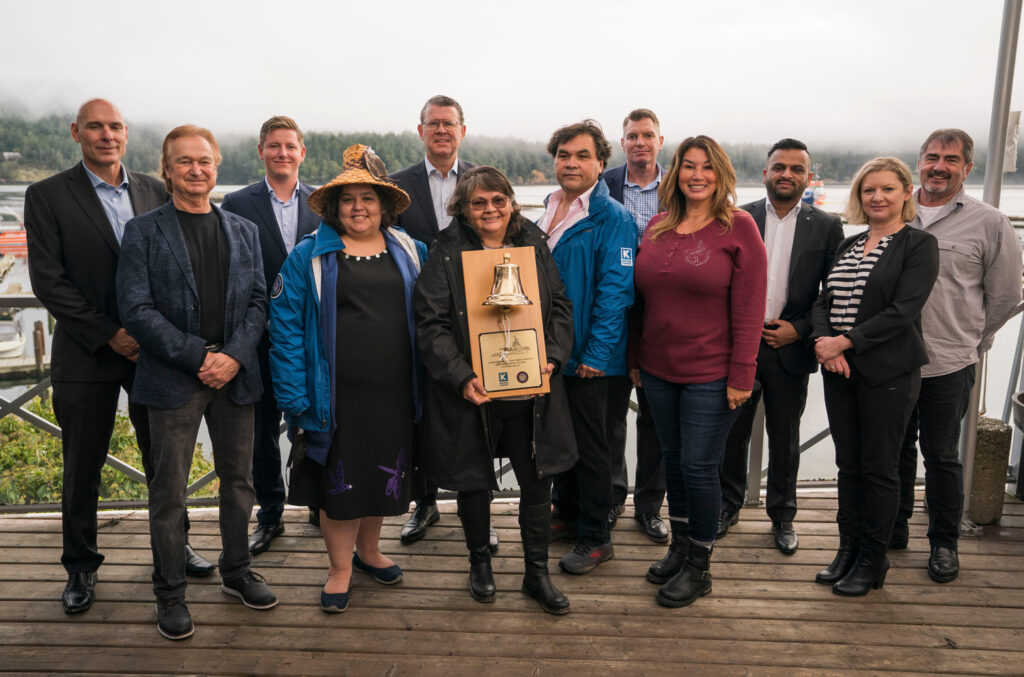 KOTUG and Shift sign MoU to combine Shift's PwrSwäp with KOTUG's E-Pusher™ vessel designs
Today KOTUG International B.V. (KOTUG) and Shift Clean Energy (Shift) announced the formation of a partnership to use Shift's new PwrSwäp clean energy service—which uses swappable batteries on a pay-as-you-go basis—on KOTUG's E-Pusher™ vessels. This unique combination supports the maritime industry in meeting their environmental, social and governance (ESG) objectives by delivering zero emission shipping and logistics services.
Meeting zero emission goals today
The signing of the MoU coincides with COP26 in Glasgow, where reducing global greenhouse gases (GHGs) is at the top of the agenda. The combined services support the maritime industry in reaching this goal today, without requiring any upfront capital costs and at competitive rates.
Swappable batteries: energy when and where you need it
Shift's proven technologies provide a ready to market pay-as-you-go service. PwrSwäp uses swappable batteries to deliver energy when and where you need it, delivering 100% uptime, eliminating carbon and minimizing maintenance.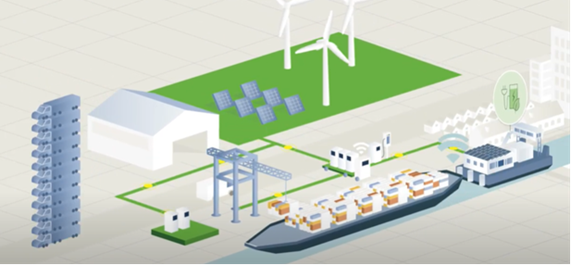 Modular electric pusher tug
KOTUG offers a range of modular and scalable electric pusher tugs, the E-Pusher™ Series, powered by swappable energy containers. The innovative design of the E-Pusher has a draft that is 30% less than conventional pusher tug designs. Due to the modular design the E-Pusher offers a 50% faster delivery time and allows a range of vessels to suit the needs of any waterway.
For smart operations, KOTUG will use its advanced dispatching, KOTUG OptiPort route and reporting tool. An automated dispatching system based on historical and real-time information will bridge port and terminal information with ship operations.
Shift CEO Brent Perry: "The message of COP26 is clear; we have to make changes now, with no time to waste. Shipping accounts for significant GHG emissions, contributing to climate change, as well as particulates that are unhealthy for communities living near ports and inland waterways. PwrSwäp and E-Pusher bring zero emissions solutions today."
Ard-Jan Kooren, President & CEO of KOTUG International: "Combining our services paves the way for ready to market zero emission solutions. Our modular and scalable E-Pusher™ design is readily available for large scale assembly. We look forward to a fruitful cooperation."