Game-changing vessel design for the inland shipping industry
KOTUG launches inland shipping division
Today KOTUG announces the establishment of an Inland Shipping division to provide electric powered pusher tugs and smart AI-driven dispatch and route planning applications for the inland water transportation industry. With these logistics solutions, KOTUG aims to support the worldwide energy transition and the modal shift from road transport to waterways while meeting the growing demand for electric-powered vessels.
The set-up of the inland shipping activities results from developing a range of modular and scalable electric pusher tugs, the E-Pusher™ Series, powered by swappable energy containers. The E-Pusher™ Series currently has three models ranging from 5,5 to 22 meters in length and a maximum depth of 0,45 to 1,35 meters resulting in a draft that is 30% less than conventional pusher tug designs.
Due to the modular approach and lean assembly method, KOTUG reduced the construction time by more than 25% compared to traditional vessels. Together with her partners, KOTUG developed various energy containers ranging from Stage V diesel, (Bio)gas and Hydrogen to battery solutions.
For smart operations KOTUG will use OptiPort, its advanced dispatching, route and reporting tool. KOTUG OptiPort is an automated dispatching system based on historical and real-time information bridging port and terminal information with ship operations. The tool supports fleet owners in optimizing expected departure- and arrival times, routing and speed control, leading to reduced energy usage and just-in-time departure and arrival. The system is active since 2017 and is currently in use by vessel operators in Australia, Japan, the United States, Canada, Belgium and the Netherlands.
With KOTUG CityBarge B.V., KOTUG recently started activities in the municipality of Leiden with a 5,5 meter E-Pusher™ providing a zero-emission alternative for heavy truck transport in inner-cities. KOTUG CityBarge BV. is a partnership of KOTUG with Circle Line Logistics B.V., aiming to make cities more liveable by restoring existing inner-city waterways by using them to transport garbage, construction materials and retail products.
"The inland shipping market offers a great opportunity for sustainable logistical solutions", says Ard-Jan Kooren, CEO of KOTUG International B.V. "As an innovative company we have created ready-to-market products for the inland shipping industry by combining our technical expertise of ship design and digitization of the marine industry. The start with activities for the inland shipping market is a natural development and a step forward in our ambition to be part of the solution of the transition towards a zero-emission maritime industry."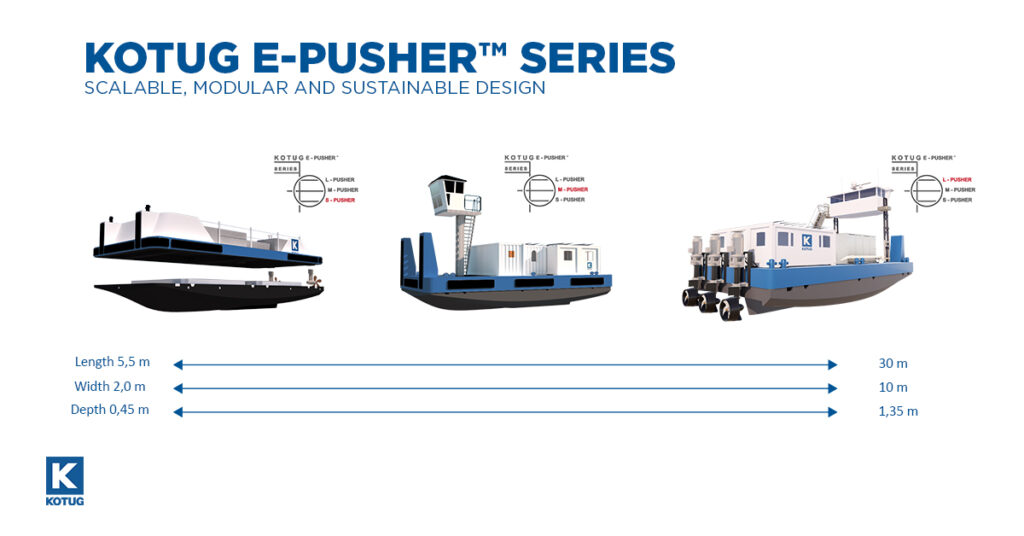 Regional Inland Shipping Minister, Jeannette Baljeu: "The Province of South Holland is involved since the start of the project around reinstating waterways as a means of transport, with the development of the CityBarge (the smallest version of the e-Pusher). Clean transport is one of our priorities. By bringing together business and government to solve mutual challenges, solutions like the E-Pusher™ are no longer just paper ideas but market-ready products. I strongly believe in the E-Pusher™ concept; it improves the liveability in cities and boosts the growth of tech industries in the Province of South Holland and beyond."
Wilhelminakade 123, Rotterdam, The Netherlands.
Tel: 06 123 45 678
Fax: 12 23465 673
Mail: Contact@KOTUG.com
KOTUG SEABULK MARITIME LLC (BS)
18 Shelly Street, Queens Highway, Freeport, Grand Bahama
Tel: +1 242 727 4060
Fax: +1 786 205 3935
Mail: info@ksm-towage.com
KOTUG Maritime Services Australia Pty Ltd, Level 6, 5 Mill Street, Perth WA 6000, Australia
T: +61 862252943
australia@kotug.com
Lot 3038, Unit G7 & G8, Komplek Harapan, Jalan Setia Diraja, Kuala Belait KA3131, Brunei Darussalam
Tel: +67 33330245
Mail: Contact@KOTUG.com
02-55, Jalan Mutiara Emas 9/3, Taman Mount Austin, 81100 Johor Bahru, Johor, Malaysia
Tel: 60 7 2889363
Fax: 60 7 2889363
Mail: Contact@KOTUG.com
4901, East Sooke Road, Metchosin, BC V9Z 1BZ, Canada
Tel: 06 123 45 678
Fax: 12 23465 673
Mail: Contact@KOTUG.com
Sustainability Pressure Cooker
Master students challenged with assignment on sustainable global procurement platform
April 19, 2021
Today, a group of 100 students of the Rotterdam University of Applied Sciences were briefed for a challenging assignment for KOTUG International as part of their Master in International Supply Chain Management. In a pressure cooker trajectory of five days the students dive into the challenge 'How to move from the traditional purchase model to a sustainable global procurement platform?'
KOTUG has a strong focus on sustainability-focused innovations that tackle and fast forward global transformations. One aspect to realise sustainability is the right sourcing of spare parts and potentially use of additive manufacturing to ensure the continuity of maintenance, repair and operations. In this pressure cooker the students are challenged to propose sustainable solutions for the sourcing and procurement of the spare parts of KOTUG's worldwide operational fleet.
Parallel to this assignment, a group of students from the HSE University in St. Petersburg will look into the financial part of the proposals. Willem van Woercom, Director Operations of KOTUG International: "We are very excited about this challenge and we encourage the teams to think out of the box. We are very grateful to both the Rotterdam School of Applied Sciences and the National Research Institute of Saint Petersburg for this joint project. We are looking very much forward to this coming Friday when the students will present their ideas."
The next level of remote support: the KOTUG EYE
Ensuring business continuity at all times while reducing CO2 emissions
After successful testing KOTUG started to use AR glasses to ensure the continuity of its ISO and class audits and technical support by engineers on-site.  
Due to the COVID-19 pandemic we were confronted with many challenges, one of them being the continuity of our audits, inspections and technical expert support, as traveling was brought back to a minimum. At the start of the pandemic, we already were at an advanced stage in developing our AR glasses – the KOTUG Eye – and decided to speed this up. We have put a lot of effort into testing and finalizing the tool. The hands-free IoT Data Visualization provides our operators the real-time data and visuals they need when operating, inspecting or maintaining our equipment.
Meanwhile, the KOTUG Eye is fully up and running. Koos Smoor (Manager Field Performance & Innovation at KOTUG):  "We use the glasses to guide and support our staff onboard in complex operations as well as to train our staff. It is an excellent workaround to the ongoing travel restrictions. The expert can log in from anywhere and guide the person onboard through the live visuals. We will keep using these devices in the post-Corona era because it works. It offers real-time visual collaboration and enables our support engineer to guide end-users through problem resolution without expensive field visits. Already it enhances our customers' satisfaction and reduces service costs as the machine uptime is higher. Finally, it reduces our CO2 footprint due to much fewer travel requirements for the inspectors, auditors and experts. "
Successful salvage in Douala by RT Zoe and RT Margo
On December 29th, 2020 the vessel COSCO KUNLUNSHAN, a Bulk Carrier, was aground in the waters of Douala. Kotug's support was requested by the vessel's owner given the power of KOTUG's vessels and presence in Cameroon.

RT Zoe and RT Margo were mobilised overnight from the port of Limbe at seven hours sailing distance away. Timing was of the essence as they just arrived before high water in Douala. The first attempt was not successful and no movement of the vessel was noticed. At the second attempt, both Rotortugs managed to push the grounded vessel from the bank. The vessel with her crew was escorted safely out to open sea. Thanks to all involved, especially the RT ZOE and RT MARGO crews!